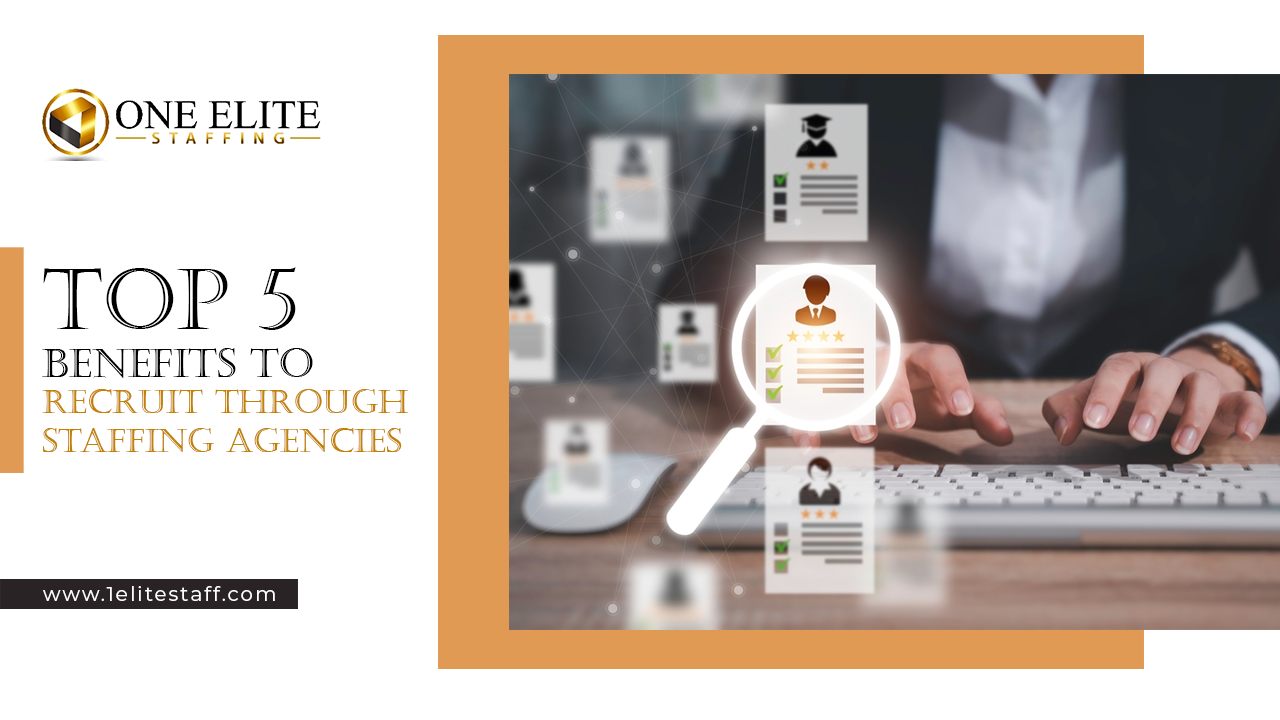 Top 5 Benefits To Recruit Through Staffing Agencies
Are you recruiting for your company in Dallas?
Not getting the desired candidates as per the job profile?
Cease your worry now and hire staffing agencies in Dallas to get your required talent solutions and make your recruiting process easy and effective.
Recruiting through a staffing agency can be extremely beneficial for your business as they would ensure to focus on every step in the recruitment process right from resume and sourcing candidates to screening, interviewing and finally onboarding. Finding the right candidate isn't an easy task but requires networking and proper strategies to bring a candidate on board. With the right recruitment agency, you can land the top candidate for your organization thereby enabling your business to enhance performance and productivity and attain success.
Understanding the Role Of Staffing Agencies In Recruitment
It is a fact that the hiring process can be lengthy, and staffing firms offer services that can save organizations the time and money needed to locate and source quality candidates. Recruitment or Staffing agencies specialize in the recruitment process and help businesses and organizations to find suitable candidates based on the specific job role. They act as a mediator between employers and candidates and seek candidates based on the criteria set by the companies. These agencies offer candidates for an array of industries and also as per the required type right from temporary, part-time to permanent and even contractual recruitment.
Benefits Of Outsourcing Through Staffing Agencies
You might be wondering why to hire a staffing agency and invest in it instead of recruiting the desired candidate all by yourself. Well, several factors make these recruiting firms to be the most efficient ones in finding a suitable candidate without you losing time and even money.
Let us find out the major benefits that will make you sure of opting for staffing agencies to land the candidates of your choice for your organization.
The first and foremost benefit of this kind of recruiting agency is that they tend to have expertise in this field which extends beyond the capabilities of the human resource department of an organization thereby landing a suitable candidate for the job. Being in contact with several people in the market, they not only have the resources to get the right candidate but also be informed about the latest technology to get the best results.
Time is a crucial factor in the present life, and when seeking a suitable candidate, you have to give in a lot of time. However, a recruiting agency can save a lot of your time by taking in the responsibility of recruitment all by themselves. Staffing recruiters with their expertise can hire candidates with a specific skillset thereby helping you get the suitable employee for your organization's job profile.
Cost is indeed an essential factor but do you know that hiring staffing agencies can be really cost-effective for your business? From hiring temporary employees to permanent ones, these recruiting agencies can be advantageous in the long run. Small and medium-sized businesses can rely on staffing firms to supply them with highly qualified and effective workers at a spectacular rate.
Improves Employee Retention
If you are wondering about employee retention then be sure of the fact that with the right staffing agency, you can not only land suitable employees but also retain them. Temporary employees employed through recruiting agencies are provided with the opportunity to become familiar with the procedures, working techniques, and tasks of the employees through training and then offered permanent positions.
The quality of workers and the productivity of the employees directly create an impact on the company's growth rate and success. One of the advantages of recruiting through staffing firms is that it helps you find the right and skilled employees for your organization that in a way helps you grow and increase your profits.
When you hire a staffing agency, you totally give away the responsibility of the recruitment process to the recruiters of the hired firm and wait as they seek the right candidate for your organization as per the job profile. From saving time to saving cost, retaining employees to increasing productivity, you experience an array of major benefits. So, why wait? Outsource a staffing agency now.